Father Nicholas Unterstein
Diocese of Rockville Centre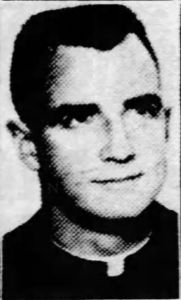 Born: 1941
Ordained: Unknown
Assigned as follows:
1966-1971      St. Hugh of Lincoln (Huntington Station, NY)
1972-1973      St. Peter the Apostle (Islip Terrace, NY)
1973-1978      St. Thomas the Apostle (West Hempstead, NY)
1979-2019      Unknown
Summary of Abuse Allegations Against Father Nicholas Unterstein:
According to media reports, Father Nicholas Unterstein was accused of sexually abusing two teen sisters for several years from the late 1960s until the early 1970s while working in the Diocese of Rockville Centre.
He worked at St. Hugh of Lincoln in Huntington Station, Nw York when he allegedly started sexually abusing young girls.  The abuse reportedly occurred in his car, at the church, in the girls' home, and in multiple states. One of the girls reported that her abuse lasted for nearly six years and involved over 1,000 sexual acts.  Father Unterstein was laicized in 1980.
One of the girls filed a civil lawsuit, which settled in 2000. In 2003, the Suffolk County Supreme Grand Jury released a report of accusations made against 23 Roman Catholic priests. The priests, whose names were omitted, were identified only by letters in the report.  According to the report, the identity of Priest J matches public allegations against Father Unterstein.
According to the report, "Two sisters were among his victims. The priest raped one of the girls when she was 15. The other sister was abused behind a church altar, in the priest's rectory bedroom and at the girl's home when her parents were away. At a parochial high school, one of the sisters told a priest what had happened to her, but nothing came of it. Years later, she told 'various people affiliated with the diocese,' and again nothing came of it until, after the woman married, the diocese offered her a financial settlement."
Father Nicholas Unterstein is listed on the Diocese of Rockville Centre's 2021 List of Clergy Credibly Accused of Sexual Abuse of a Minor. He is believed to be living in Williamsburg, Virginia.
Horowitz Law is a law firm representing victims and survivors of sexual abuse by Catholic priests and other clergy in the Diocese of Rockville Centre in New York.  If you need a lawyer because you were sexually abused by a priest in New York, contact our office today. In October 2020, the Rockville Centre Diocese filed for federal bankruptcy protection.  The Court will resolve all claims of sexual abuse in this process but strict filing deadlines will apply and no late claims will be considered, so contact us today.  Our lawyers have decades of experience representing survivors of clergy sexual abuse in New York and nationwide. We can help.
Contact us at 888-283-9922 or [email protected] to discuss your options today.