Father Charles "Bud" Ribaudo
Diocese of Rockville Centre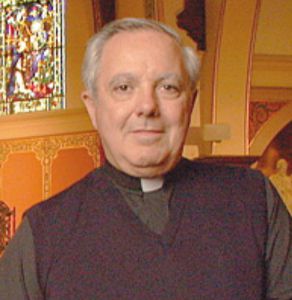 Ordained: May 27, 1967
Removed: 2002
Died: August 13, 2016
Assigned as follows:
1968-1970      St. Rose of Lima (Massapequa, NY)
1971-1984      Holy Trinity High School (Hicksville, NY)
1984-1987      Sacred Heart (North Merrick, NY)
1988-2002      St. Dominic's (Oyster Bay, NY)
2003-2016      Retired
Summary of Abuse Allegations Against Father Charles "Bud" Ribaudo:
According to media reports, in March 2002, Father Charles Ribaudo was removed from ministry by the Diocese of Rockville Centre following allegations that he sexually abused Father Michael Hands in the 1980s, when Hands was still a student at Holy Trinity High School Hicksville, New York. Hands grew up to become a priest, and in 2002, pleaded guilty to sexually abusing a teenage boy. He claimed that a church official offered him cash if he promised to remain silent about charges against Father Ribaudo, as he was one of the diocese's most prolific fund-raisers.
Father Ribaudo was sent for psychiatric evaluations during which time his parishioners were told he was on medical leave. During the evaluation, he admitted that there were as many as twelve boys that he sexually abused. Another survivor reported that he sexually abused him in the mid-1980s while he was in the fourth through sixth grades at Sacred Heart in North Merrick, New York.
Father Ribaudo retired in April 2002. The description of  "Priest O" in the 2003 Suffolk County Grand Jury report matches public allegations against him.  According to the Grand Jury report, "Priest O" wrestled with his sexual orientation for most of his adult life and regularly sought psychiatric counseling.  It goes on to say that Priest O was repeatedly sexually abusive and that the diocese knew this years before they took any action against him.  Priest O is  described as a master manipulator who "had the art of seducing teenage boys down to a science." The priest acknowledged in an evaluation that he abused "at least 12 boys."
"Despite what appears to be massive factual evidence that he is a sexual predator … he continues to be in denial," said one of the grand jury witnesses against him.
He died in 2016. Ribaudo had Florida.  He resided at different times in Jupiter and Naples, Florida.
In August 2019, Father Ribaudo was accused in a lawsuit filed under the NY Child Victims Act, of sexually abusing a 17-year-old student at Holy Trinity in Hicksville, from April to June of 1969. He was accused in another lawsuit of sexually abusing a 15-year-old boy for a year starting in 1977, while he was a student at Holy Trinity High School. Ribaudo is listed on the Diocese of Rockville Centre's 2021 List of Clergy Credibly Accused of Sexual Abuse of a Minor.
Horowitz Law is a law firm representing victims and survivors of sexual abuse by Catholic priests and other clergy in the Diocese of Rockville Centre in New York.  If you need a lawyer because you were sexually abused by a priest in New York, contact our office today. In October 2020, the Rockville Centre Diocese filed for federal bankruptcy protection.  The Court will resolve all claims of sexual abuse in this process but strict filing deadlines will apply and no late claims will be considered, so contact us today.  Our lawyers have decades of experience representing survivors of clergy sexual abuse in New York and nationwide. We can help.
Contact us at 888-283-9922 or [email protected] to discuss your options today.