Father Peter McBride
Diocese of Paterson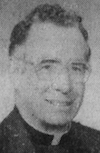 Ordained: 1960
Removed: 1994
Assigned as follows:
St. Virgil (Morris Plains, NJ)
St. Clare (Clifton, NJ)
St. Peter (Parsippany, NJ)
St. Andrew the Apostle (Clifton, NJ)
St. Christopher (Parsippany, NJ)
St. Rose of Lima (Clifton, NJ)
Summary of Abuse Allegations against Father Peter McBride:
In 1994, with multiple victims' allegations surfacing, the Diocese of Paterson removed Fr. Peter McBride, who is originally from Ireland, from active ministry.
In February 1995, McBride was indicted on charges that he sexually assaulted two adult female parishioners and molested a 14-year old girl.  The teenage girl, who was a student at St. Andrew the Apostle in Clifton, accused him of fondling her in the confessional and exposing himself on various occasions.  According to media reports, in February 1997, McBride pleaded guilty to fondling the breasts of two adult women in 1991 and 1992. The women were ages 38 and 41 at the time of the incidents.  McBride was placed on probation and ordered to receive a minimum of two years of counseling and pay a $250 fine. During the trial, the women said they had lost their faith as a result of the incidents. The charges that McBride had molested a teenage girl were dismissed when the judge ruled that the priest had been denied his right to a lawyer and that his statements were coerced. by law enforcement investigators. McBride, who had denied the charges, still faced a civil suit filed by the girl in 1996.  That case was eventually settled for a confidential sum, and then McBride was still allowed to work as a weekend assistant at St. Rose of Lima.
At least six other women publicly reported molestation by Peter McBride.  The women reported that McBride kissed, grabbed, and fondle them. During his tenure as a priest, Peter McBride was sent to St. Luke Institute in Silver Spring, Maryland for treatment.
McBride's name appears on the Diocese of Paterson's list of credibly accused priests published in February 2019.
While the Diocese confirmed that McBride was the subject of "multiple" credible allegations of child sexual abuse, the Diocese of Paterson released very little information on the allegations against each priest, including the age/gender of the victims, or the priest's assignment at the time of the alleged abuse. However, according to the Bishop of Paterson, in the case of each priest on the list, "the Diocese of Paterson received information concerning possible misconduct by the individual, investigated the matter for corroborating evidence, and determined that the report was credible. Accordingly, while those individuals may deny having engaged in illegal behavior involving a minor and they are entitled to be presumed innocent in a criminal court of law, the Diocese has determined that the information it received was credible and it has thus included their names on this disclosure."
According to the Diocese of Paterson, McBride is still alive but it has not disclosed his current location. McBride's whereabouts are unknown. He may have returned to his native Ireland.
Horowitz Law is a law firm representing victims and survivors of sexual abuse by Catholic priests and other clergy in the Diocese of Paterson. If you need a lawyer because you were sexually abused by a priest in Paterson, contact our office today. Although many years have passed, those abused by Catholic clergy in the Diocese of Paterson now have legal options to recover damages due to a compensation fund created for victims. Call us at 888-283-9922 or send an email to [email protected] to discuss your options today.